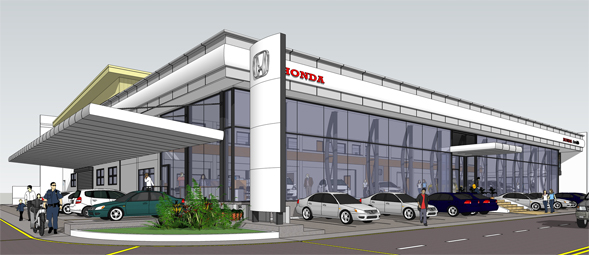 Honda Cars Greenhills
Ortigas ave. cor. Columbia Street, Greenhills, Mandaluyong City
Honda Cars Greenhills is the first branch of Honda Cars Kalookan. Our dealership features a seven (7) car showroom and a state of the art Service Facility that can service up to 30 cars per day. It is sitting on a 2,500sqm property with a 50m frontage. On top of standard Honda Dealership features like a cozy lounge & kids play area, Honda Greenhills has sleeping & breastfeeding rooms.

Mandaluyong City's First Lady, Carmelita Abalos, was the Guest of Honor at the April 21, 2013 Groundbreaking Ceremony. Also Present during the event were Honda Cars Philippines president and general manager Tatsuya Natsume, Yuchengco Group of Companies Chairwoman, Ms. Helen Y. Dee, Malayan Insurance President, Ms. Yvonne Yuchengco, House of Investment President Medel T. Nera, Honda Kalookan's Director, Jonathan Y. Gohh and Honda Kalookan's General Manager, Johnny Fetalvero.

Ms. Cristina Marcelino, a 19 year Veteran in the Car Industry, was designated to be the Branch Manager of Honda Greenhills. "It's about time for Honda to have a dealer in this Area and we have so many customers here," Ms. Marcelino stated.

While our main priority is to do our best to satisfy each customer, we also believe in having happy, satisfied and competent associates at Honda Cars Greenhills.

This philosophy demands careful selection of candidates to ensure that they are fit for the environment at HCGH. The atmosphere at HCGH is one where professionals treat each other with respect and courtesy.

Our vision is to be the best dealership in the country. With your continued enthusiastic patronage and support, we believe that our vision can be a reality.